A common theme of almost any charitable organization is -- providing help: creating hope.  It's fundamental to anyone caring for people ... whether a charity, hospital, hospice, or food bank/homeless shelter.  But, it doesn't mean all charities are the same.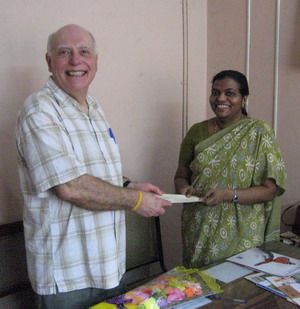 The Malabar Mission Society is a charity specifically focussed on the people of India.  It's where our heart is ... and it's where our dollars go.  Our supporters know our cause, share our values, and follow our vision — a vision that says "the Gospel belongs to all people — both to those that know Jesus, and those that do not." 
But, the Gospel is more than a message.  The Gospel acts through people who care.  It takes hands and feet, words and speech, meetings and friendships, ideas and relationships ... to make a difference in the lives of one another.  It's a mission that's all about providing help ... and creating hope. ... through people who care for each other.  And that's how, and where, you can help.
Without a support base we cannot accomplish the work that we plan ... nor achieve the vision that we hold.  Our success requires partners who believe in what we do ... and who value our dream.  And, as such, we can only reach our goals ... with the help of others — our supporters.
If your heart lies in helping others ... and if you share a love for the people of India, then please consider becoming a supporter of the Malabar Mission Society.  We are always looking ... for individuals, families, churches, foundations, businesses (or other "corporate or intitutional support").  It's a job that takes many hands ... and a self-giving love.
And that's HOW you can help!
---
For further information, please contact us by mail, or email:
Mailing Address:   The Malabar Mission Society
                                  P.O. Box 32045
                                  REGINA, Saskatchewan (Canada)
                                  S4N 7L2
General Email:     
This email address is being protected from spambots. You need JavaScript enabled to view it.
AND
THANK YOU

  FOR CARING!